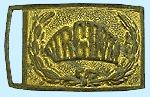 Civil War Relics
is now an Auction Site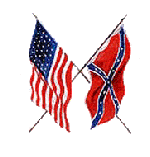 I have converted my long running Civil War Relics site to an Auction Site. My new site is called CWRelics Auctions. Now I have no fees other than the auction software and the cost of the new domain name. This being the case, my relic prices in some cases may be somewhat lower.
Some of the items will be strictly "Buy It Now" items where there won't be any bidding. Others will be of the standard auction bidding type. These may include a "Buy It Now" price which would disappear and revert to a regular bidding auction once the first bid on the item is made. The starting price may be high but will always be lower than the "Buy It Now" price. I don't believe in "Reserves" as I consider them a waste of time, therefore I will never use them.
Like with any auction site, you will have to register before you can bid on or purchase an item. Make sure that your email is correct as you will be sent an initial password that we recommend you change once you log onto the site.
You can pay for your purchases via PayPal, Credit Card or even sending a check or Money Order.
Thank you for your loyalty. Please feel free to email me if you should have any questions, suggestions or problems with my new site. Hope you enjoy it!
Just listed some bulk bullet auctions. They are all buy-it-now so there is no bidding. If anyone is interested in any other quantities than the ones listed please email me.
New New New


If you would like a special frame mat made for your collectibles, your photographs, your prints, or for anything else you may have, give us the opportunity to make it for you.
For more information, please visit my cwrelics.com,LLC FaceBook page. Click here.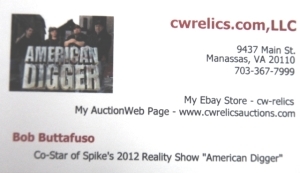 Click here to view my eBay store.